Thanks for hopping over from Adventures of a Novice Mum and welcome to my post for the Keep Britain Breastfeeding Scavenger Hunt Day 3 Dress to Impress. Sponsors today include Milk and Mummy with a £50 voucher, Lorna Drew Maternity who are offering a beautiful set of nursing lingerie and Mummy Makes Milk who is offering a signed copy of her beautiful book for our Grand Prize winner. Over £700 worth of goodies are up for grabs and entries are via the Rafflecopter at the bottom of this post.
When your belly is jelly and your boobs have ballooned, even the most fashion-phobic go shopping. This would be fine, except that your confusing new shape is accessorised with this season's hottest "newborn baby", a charming but impractical addition which ensures that all shopping must be completed within 15 panicked minutes between feeding and nappy changes.
MilkChic is a fashion site dedicated into women who need to get their boobs out in public. Here is a guide to breastfeeding friendly high street fashion for busy new mums.
1. The Lift Up
Anything with a top which can be lifted to above the nipple – no danger of flashing your baps at an unsuspecting public, but does limit you to tops and skirts or trousers.
Try these:
It's easy to keep your tummy covered – pick a camisole or vest with adjustable straps and extend them so it sits below your bust or make use of a maternity belly band to keep warm and hide the lumps and bumps.
2. The Pull Down
Any top that will pull down over one breast at a time – stretch fabrics are ideal, but don't be put off by non-stretch as the right neckline will still give you all the access you need. Plenty of dresses in this category too, so worth mastering for occasionwear!
Try these:
Although your baby's head covers most of your breast, this can feel a little exposing. I like to layer a pull down top over a nursing vest – learn how to make your own nursing vests easily.
3. The Sleeve Feed
As it sounds – tops with sleeves that will stretch to give boob access.
Try these:
Try these:
"One up / one down" – layer 2 stretchy tops (lift up your top one and pull down the bottom one to create a gap for feeding.
A cardigan buttoned at the neck like a cape over a pull down top to create a feeding gap.
Unbutton a shirt in the middle for quick, layer free feeding access without flashing any flesh.
5. The Random Ones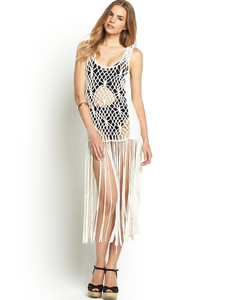 Every now and then you see something really clever – often when a determined older baby figures out a way in! Recently I very much enjoyed seeing a baby latching on through a top like this. Clever child!
You can find some more ideas on Dressing to Impress over on Family Fever blog along with another chance to gain some extra entry points to our grand prize giveaway. Remember you need to earn 50 points to be eligible, full details can be found on the Keep Britain Breastfeeding Site.